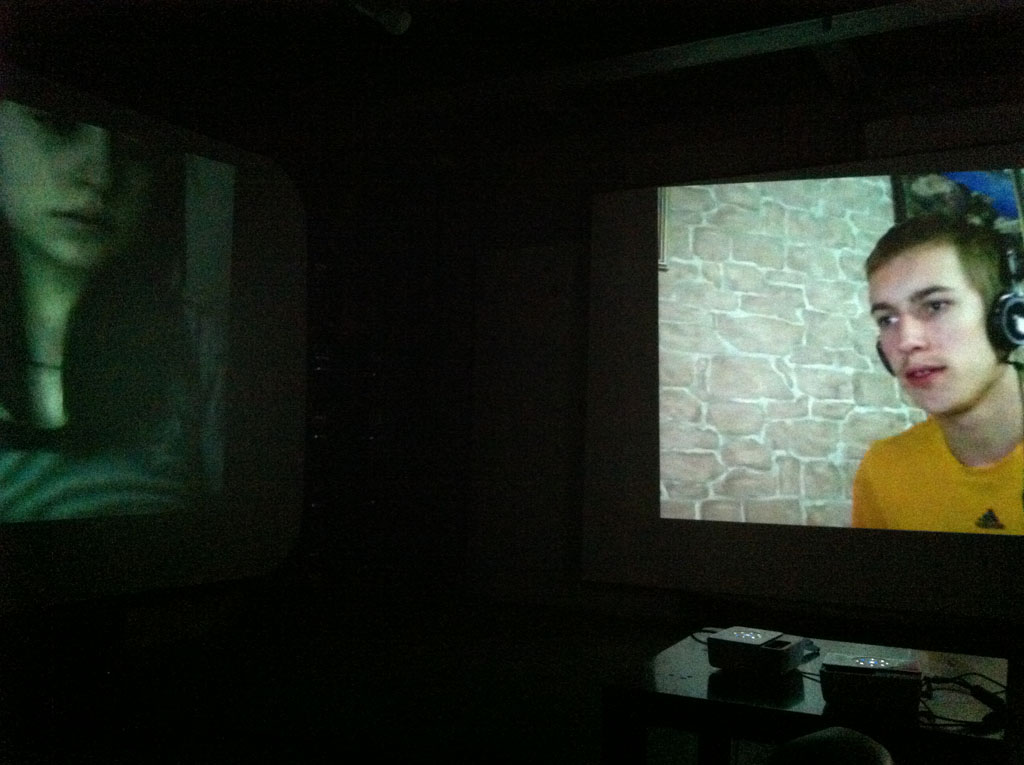 photo by Heather Rasley
Meeting
by Zach Gage

Meeting is a slightly interactive installation that I made during my residency at Eyebeam.
A nod to the piece of the same name by James Turrell, Meeting is about opening a window to the space created by our digital interactions. While most of my previous work has been about claiming and exploring the digital experience as similar to our physical existence, Meeting explores more directly what a space looks like on the internet.
Meeting consists of two computers that face eachother with their webcams turned on. Each computer is running custom software that modifies Chatroulette to turn it into a full screen image. The software also monitors the activity, clicking next of the image is too stagnent. Additionally, the computers are hooked up to projectors, speakers, and microphones, which convey the image of the inadvertant chatters on the walls of a dark room, where they are watched and heard by visitors sitting on couches.
Visitors experience what most users of Chatroulette would think of as the negative space surrounding the interactive experience. Put on view is a series of live failures—chatters trying but unable to strike up conversations with eachother, chatters who have forgotten that they left chatroulette on, chatters nexting right away.
Meeting allows us to understand the space of Chatroulette that exists beyond the interactions that we have on it, and displays what a strange sacred space it is.
Although I do have video documentation of Meeting, I decided not to put it up here, as the piece is really meant to be experienced as a live installation.
Meeting was made with openFrameworks.